Pronounced FYE-fur, this fire table gets its namesake from the Pfeiffer Big Sur state park in Monterey California. Inspired by the giant redwoods, our Pfeiffer Fire Table has a vertical board formed texture that was created by casting against actual pieces of rough sawn redwood lumber. This way no detail is left out.  The Pfeiffer offers the largest flame of all our fire features with up to 400,000 BTU's of heat!
Pfeiffer Fire Table features include:
Made from real concrete, for a long-lasting design that can withstand the elements for years to come
Using a lightweight concrete mix, these can be moved if needed with the help of two or more extra hands

Fully sealed and made to withstand outdoor weather. UV stable and cold weather resistant
Includes high output CROSSfire burner system which produces a larger and more authentic looking flame. Also composed of all brass to withstand harsh environments like salty air. CSA Certified
Product shown in RAW finish
Larger fire table in photos shown with extra large lava stones. These are not available through our website but can be a custom request. Reach out before ordering for more information. 
We offer fully custom projects and love a challenge, feel free to contact us with any project you have in mind
Please check current lead time before ordering here
Additional Accessories
Glass Wind Guard
 Downloads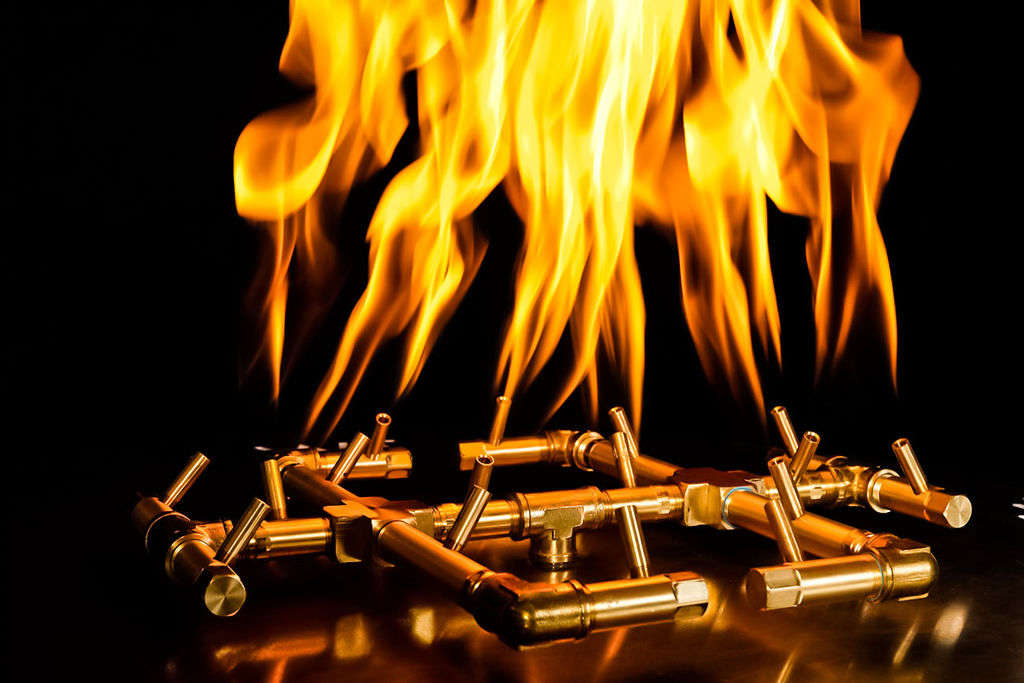 CROSSFIRE All Brass Burners
Unlike other burners made from stainless steel, brass is corrosion resistant and will not rust, which eliminates the need for replacement. Our burners carry a lifetime warranty on all brass products!
Twice The Flame
The patent-pending technology behind the CROSSFIRE Brass Burner uses a specific air-to-gas ratio at the point of combustion to produce a taller, brighter, fuller flame that resembles a natural, wood burning fire. Venturi Jet Technology generates high velocity gas flow and pulls more oxygen into the jet chamber – feeding the combination into the flame at the point of combustion. This causes the gas and oxygen mixture to shoot out of the jet at a high velocity as a super-charged flame, like water out of a fire hose.